SIMULATION OF ULTRA-HIGH-PERFORMANCE DENSE CONCRETE WITH SAND, BARITE AND MAGNETITE ON MECHANICAL AND RADIATION SHIELDING AS DRY CASK STORAGE OF SPENT NUCLEAR FUEL
M.A.H. Abdullah

University Malaysia Perlis

Raizal S.M. Rashid

Universiti Putra Malaysia

N.M. Azreen

Agensi Nuklear Malaysia

H. Ithnin

Agensi Nuklear Malaysia

Y.L. Voo

DURA Technology Sdn. Bhd

M.I. Idris

National University of Malaysia
Keywords:
simulation ANSYS, concrete, spent nuclear fuel, shielding material
Abstract
Abstract
Harnessing of nuclear energy provides lots of benefits in healthcare, power generation and advancement in agriculture but the penetrative nature of its energy requires shielding which has been vastly made of concrete due to its ubiquitous components and durability. This study aimed to investigate the performance of UHPC with colemanite and polyvinyl alcohol (PVA) fibre in term of mechanical, radiation shielding that includes neutron shielding by method of computer simulation. This type of modified UHPC is denoted as ultra-high performance dense concrete (UHPdC) and the simulations are carried out using ANSYS and Particle and Heavy Ion Transport code System (PHITS) are carried out to validate the experimental data and evaluate UHPdC's performance as dry cask storage for spent fuel cell.
 Abstrak
Memanfaatkan tenaga nuklear memberikan banyak faedah dalam penjagaan kesihatan, penjanaan kuasa dan kemajuan dalam pertanian tetapi sifat penembusan tenaganya memerlukan perisai yang kebanyakannya diperbuat daripada konkrit kerana komponennya yang ada di mana-mana dan ketahanan. Kajian ini bertujuan untuk mengkaji prestasi UHPC dengan gentian colemanite dan polivinil alkohol (PVA) dari segi mekanikal, perisai sinaran yang merangkumi perisai neutron melalui kaedah simulasi komputer. Jenis UHPC yang diubah suai ini ditandakan sebagai konkrit padat prestasi ultra tinggi (UHPdC) dan simulasi dijalankan menggunakan ANSYS dan Sistem Kod Pengangkutan Zarah dan Ion Berat (PHITS) dijalankan untuk mengesahkan data eksperimen dan menilai prestasi UHPdC sebagai kering. simpanan tong untuk sel bahan api terpakai.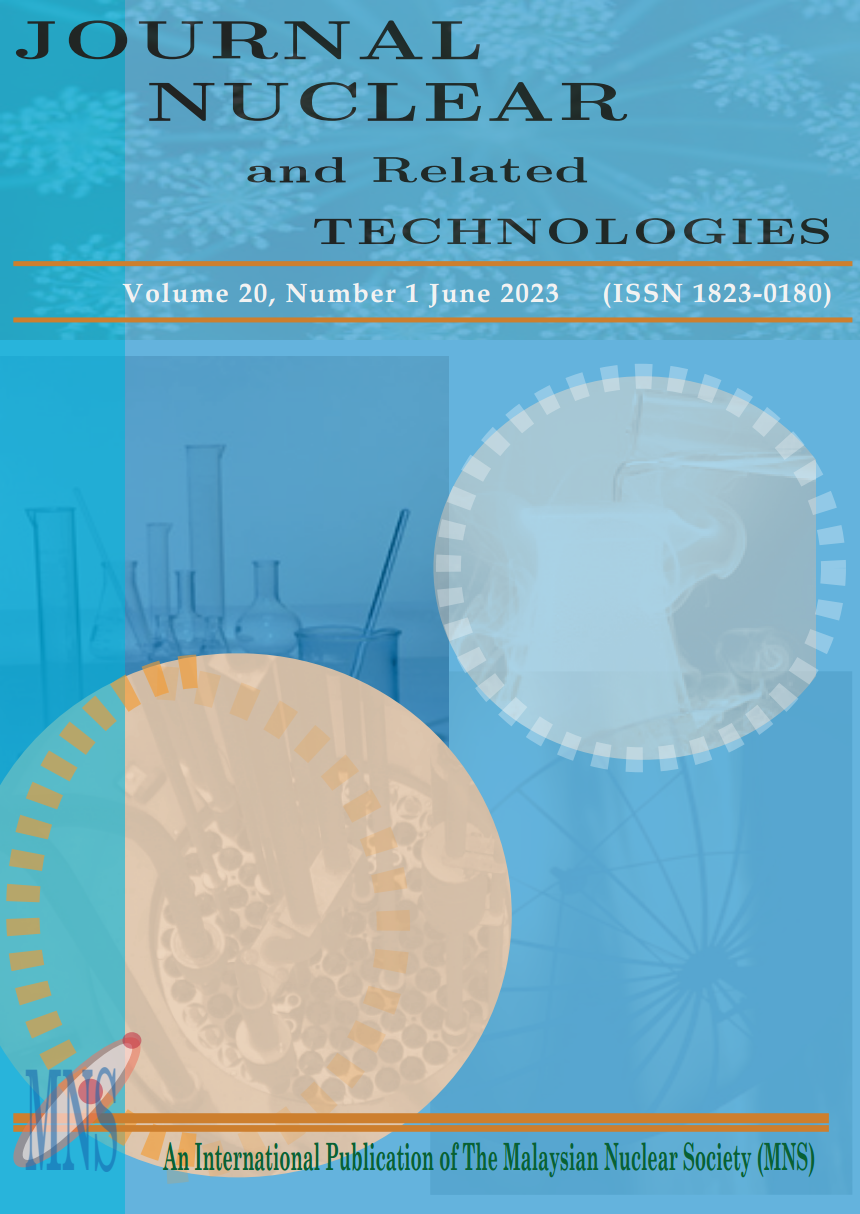 How to Cite
Abdullah, M., S.M. Rashid, R., Azreen, N., Ithnin, H., Voo, Y., & Idris, M. (2023). SIMULATION OF ULTRA-HIGH-PERFORMANCE DENSE CONCRETE WITH SAND, BARITE AND MAGNETITE ON MECHANICAL AND RADIATION SHIELDING AS DRY CASK STORAGE OF SPENT NUCLEAR FUEL. JOURNAL of NUCLEAR and Related TECHNOLOGIES, 20(01), 7-18. Retrieved from http://jnrtmns.net/index.php/jnrt/article/view/225