MECHANICAL PERFORMANCE OF BARITE COLEMANITE CONCRETE USING DOE-BASED FORMULATION FOR RADIATION SHIELDING
Safwan Shalbi, Dr.

Universiti Malaysia Pahang

Muhammad Aliff Ashraff Rosdi

Universiti Malaysia Pahang

Norazlianie Sazali

Universiti Malaysia Pahang

Faridah Mohamad Idris, Dr.

Agensi Nuklear Malaysia

Asyraf Arif Bin Abu Bakar

Agensi Nuklear Malaysia
Keywords:
Barite Colemanite Concrete, Radiation Shielding, Boron Neutron Capture Therapy (BNCT)
Abstract
ABSTRACT
This study focuses on the preparation and evaluation of barite colemanite concrete samples for radiation shielding applications, with a target compressive strength of 40 MPa. Various concrete mixtures were formulated using DOE method, resulting in four distinct samples labelled A, B, C, and D. The research emphasizes the importance of achieving Grade 40 concrete properties suitable for components in Boron Neutron Capture Therapy (BNCT) at nuclear reactors. Sample A adhered to the DOE-specified ratio, featuring colemanite as fine aggregates, while samples B, C, and D incorporated colemanite as a filler. The adjustment of water and colemanite content was crucial, with reduced water content in samples B, C, and D to achieve the desired strength without compromising workability. All samples exceeded the target density of 2375 kg/m3, with sample C achieving the highest density of 2904 kg/m3, emphasizing the impact of water and colemanite proportions on density. The ultrasonic pulse velocity (UPV) test indicated that the barite colemanite concrete possessed good quality and suitability for shielding applications. Workability, assessed through the slump test, indicated that all samples, except sample B, exhibited good workability within the Grade 40 range. The inverse relationship between slump and density highlighted the importance of density in workability. Compressive strength testing revealed that mixture D surpassed the Grade 40 threshold, exhibiting a remarkable 56% increase in load-bearing capacity between 7 and 14 days of curing. In contrast, mixtures A, B, and C remained below the desired strength.
ABSTRAK
Kajian ini memberi tumpuan kepada penyediaan dan penilaian sampel konkrit barit colemanite untuk aplikasi perisai sinaran, dengan kekuatan mampatan sasaran 40 MPa. Pelbagai campuran konkrit telah dirumus menggunakan kaedah DOE, menghasilkan empat sampel berbeza yang dilabelkan A, B, C, dan D. Penyelidikan ini menekankan kepentingan untuk mencapai sifat konkrit Gred 40 yang sesuai untuk komponen dalam Terapi Tangkapan Neutron Boron ( BNCT) di reaktor nuklear. Sampel A mematuhi nisbah yang ditentukan DOE, menampilkan colemanite sebagai agregat halus, manakala sampel B, C, dan D menggabungkan colemanite sebagai pengisi. Pelarasan kandungan air dan kolemanit adalah penting, dengan pengurangan kandungan air dalam sampel B, C, dan D untuk mencapai kekuatan yang diingini tanpa menjejaskan kebolehkerjaan. Semua sampel melebihi ketumpatan sasaran 2375 kg/m3, dengan sampel C mencapai ketumpatan tertinggi 2904 kg/m3, menekankan kesan air dan perkadaran kolemanit pada ketumpatan. Ujian halaju nadi ultrasonik (UPV) menunjukkan bahawa konkrit barit colemanite mempunyai kualiti yang baik dan kesesuaian untuk aplikasi perisai. Kebolehkerjaan, yang dinilai melalui ujian kemerosotan, menunjukkan bahawa semua sampel, kecuali sampel B, mempamerkan kebolehkerjaan yang baik dalam julat Gred 40. Hubungan songsang antara kemerosotan dan ketumpatan menyerlahkan kepentingan ketumpatan dalam kebolehkerjaan. Ujian kekuatan mampatan mendedahkan bahawa campuran D melepasi ambang Gred 40, menunjukkan peningkatan 56% yang luar biasa dalam kapasiti galas beban antara 7 dan 14 hari pengawetan. Sebaliknya, campuran A, B, dan C kekal di bawah kekuatan yang dikehendaki.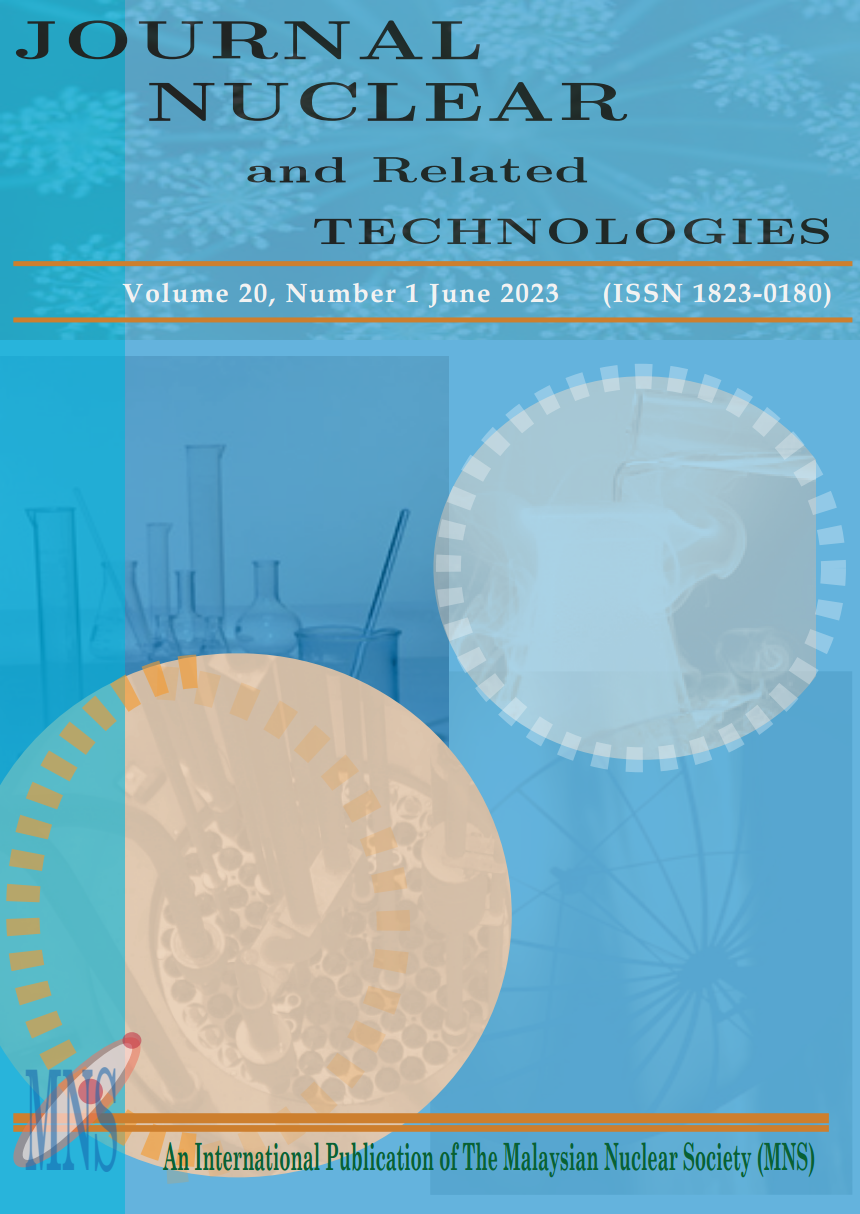 How to Cite
Shalbi, S., Rosdi, M. A. A., Sazali, N., Mohamad Idris, F., & Abu Bakar, A. A. (2023). MECHANICAL PERFORMANCE OF BARITE COLEMANITE CONCRETE USING DOE-BASED FORMULATION FOR RADIATION SHIELDING. JOURNAL of NUCLEAR and Related TECHNOLOGIES, 20(01), 26-34. Retrieved from http://jnrtmns.net/index.php/jnrt/article/view/227